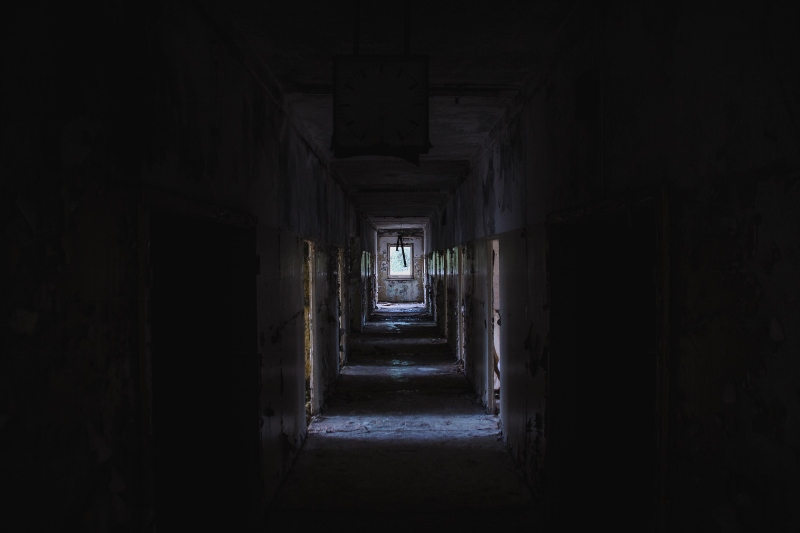 They'd spent the night in a dank jail. They were nearly put on trial. They could've been killed.
The Apostles Peter and John would undergo worse treatment for preaching the Gospel, the truth about Jesus Christ and eternal salvation.
If I were them, I'd be terrified. If I were them, I would've stopped talking a long time ago. Fear would keep me silent.
Certainly after ending up in jail, fear of what would happen to me the next time would scare me into keeping my enthusiasm more under wraps. At least for a little while.
But the Apostles weren't silenced.
As a fear warrior, someone who fights the battle against all kinds of fears every day of my relatively safe life, I want to know how they could keep going without succumbing to fear.
No doubt a number of factors led to their remarkable courage: strong faith and knowledge of God, joyful and grateful attitudes, love of Jesus, the peace that surpasses all understanding, and the power of the Holy Spirit.
But we know from reading this true story in Acts 4 that they used one more weapon to combat fear, a weapon that I think many of us forget we have in our arsenal as Christians. They prayed.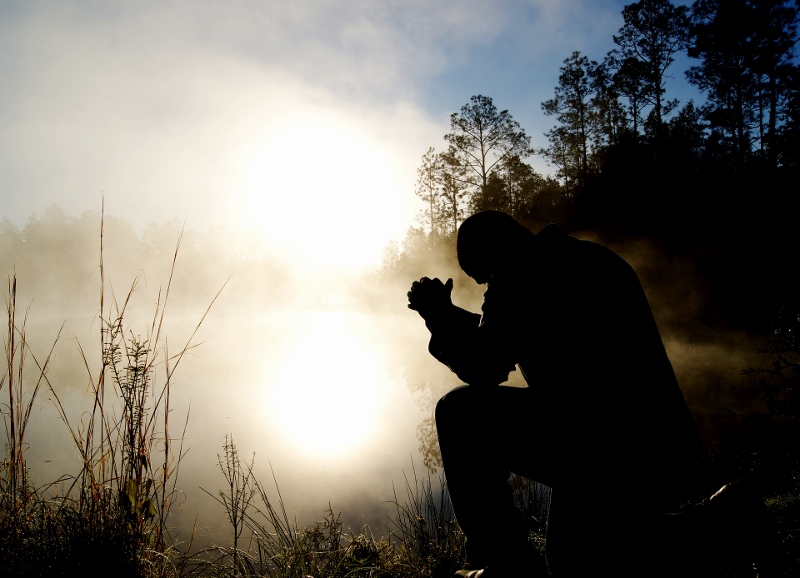 After being jailed overnight, Peter and John were released. They headed to the house of their friends, where they quickly turned to one of their strongest weapons to beat fear—prayer.
I wonder, from the nature of their prayer, if they were struggling with fear at this point. After what they'd been through, I certainly would have been quaking from my near-death experience and anxious about the future. I'd fear what the government and people would do the next time I was caught talking about Jesus.
I don't want to judge the Apostles in the light of my own character, but they were clearly at least aware of their fallen tendency to weaken in courage in the face of danger. They knew that if they were going to continue witnessing for Christ, they would need the kind of courage and boldness no person has naturally within.
So they went to the source of what they needed. The only One who could banish their fear of very real, very serious danger.
Their prayer is a vital one for fear warriors to study. It's packed with so much truth and is a perfect model for the kind of prayer we need to pray if we want to defeat our fears.
It starts this way, "Sovereign Lord, who made the heaven and the earth and the sea and everything in them…"  (Acts 4:24).
The Apostles don't open with what I would—a nice, hysterical, "Save me, Jesus!" Instead, they're reminding themselves of God's power, omniscience, and sovereignty—all key facts to know about God if you're going to trust His ability to protect you from harm.
The Apostles and their friends then review a Psalm that reflects on the weakness and futility of even the worst of evil humanity's schemes. A good reminder of how easily God can handle thwarting any evil.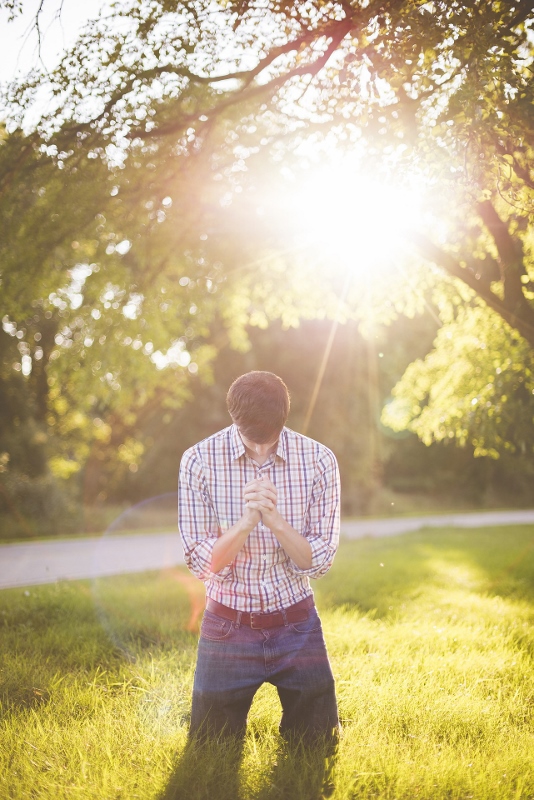 By the time the Apostles reach the request part of their prayer, the part where they're asking for what they need to calm their fears, their fears are probably already reduced. They've remembered the God they're talking to is completely in control, sees all, knows all, and is their protector.
The Apostles finish their prayer with the need that prompted them to pray in the first place: "And now, Lord, look upon their threats and grant to your servants to continue to speak your word with all boldness, while you stretch out your hand to heal, and signs and wonders are performed through the name of your holy servant Jesus." (Acts 4:29-30)
Did you notice that? They don't actually pray that they wouldn't suffer or that God would obliterate the people trying to persecute and kill them. They don't even pray for protection against danger.
Instead, they appear more concerned about what fear, left unchecked, could do to them. They pray only for boldness to continue to share the good news of Jesus Christ with others. They pray for the defeat of fear in their lives.
The Apostles are certainly familiar with Jesus's repeated commands not to fear. And they know they, like us, need the Lord's help to obey that command.
When I'm afraid, I admit I don't often pray. I'll turn to a Bible verse first or maybe a helpful fear-fighting song. When I get really scared of something, I pray for protection or escape. But those are quick, instinctive prayers born out of a terrified heart. I don't often stop everything and engage in a sincere, thoughtful time of prayer.
Do I believe in the power of prayer? Yes. Very much so. But my actions suggest that I don't believe in the power of prayer to battle my fears as much as I say I do.
If you're like me and you're not using prayer as often as other fear-fighting weapons, then how about joining me in an effort to stop and pray when we're afraid, stressed, anxious, etc.
Prayer has power we can't begin to comprehend. The Bible is packed with more accounts of the incomprehensible results that come from the prayers of Christians. Like Peter and John, the Apostle Paul repeatedly asks for prayer that he would continue to be a bold witness. Jesus Himself prayed constantly, just as we're commanded to pray without ceasing (1 Thes. 5:17).
God chooses to allow us to participate in His work through prayer. When we pray, He works in and through us in mighty ways. Even giving us the courage and power to conquer our fears.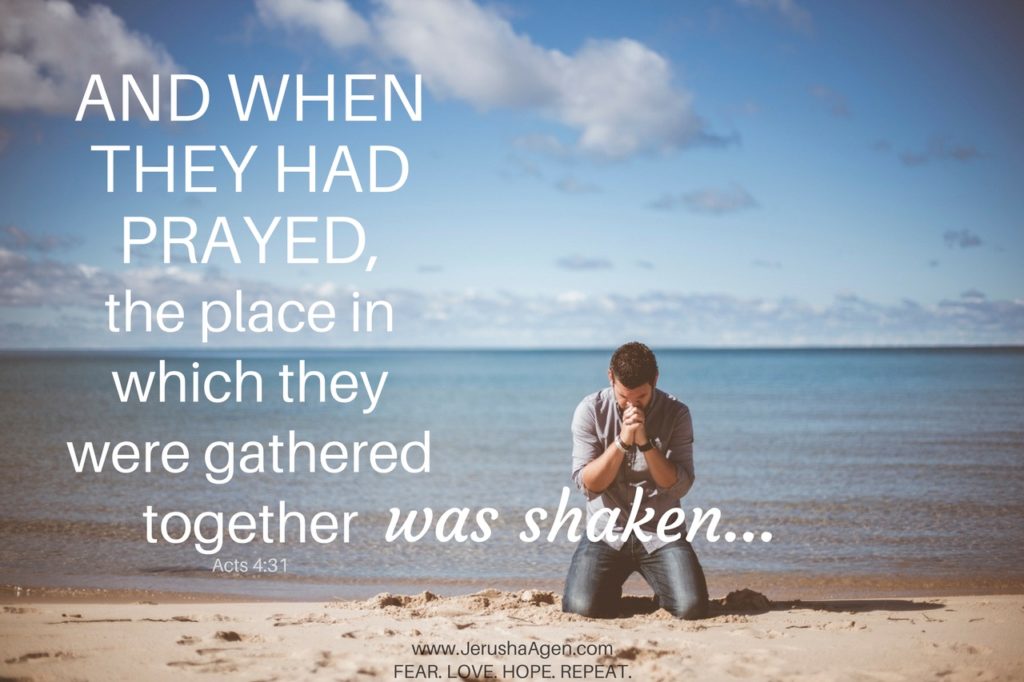 Prayer certainly worked for Peter and John:
And when they had prayed, the place in which they were gathered together was shaken, and they were all filled with the Holy Spirit and continued to speak the word of God with boldness. – Acts 4:31

Talk about amazing results to prayer! If you're fighting fear like I am and feel you're losing the battle, or you're making progress and want to gain the upper hand, add intentional prayer to your battle strategy.
God just might use your prayer to give you the victory over fear and enable you to boldly go out and shake the world.
Do you use prayer to fight fear? How has prayer helped you win the victory over your fears? Please share!