I'm giving away a free print copy of Vines of Entanglement by Lisa Carter to one of you who leaves a comment below! So don't forget to join the conversation!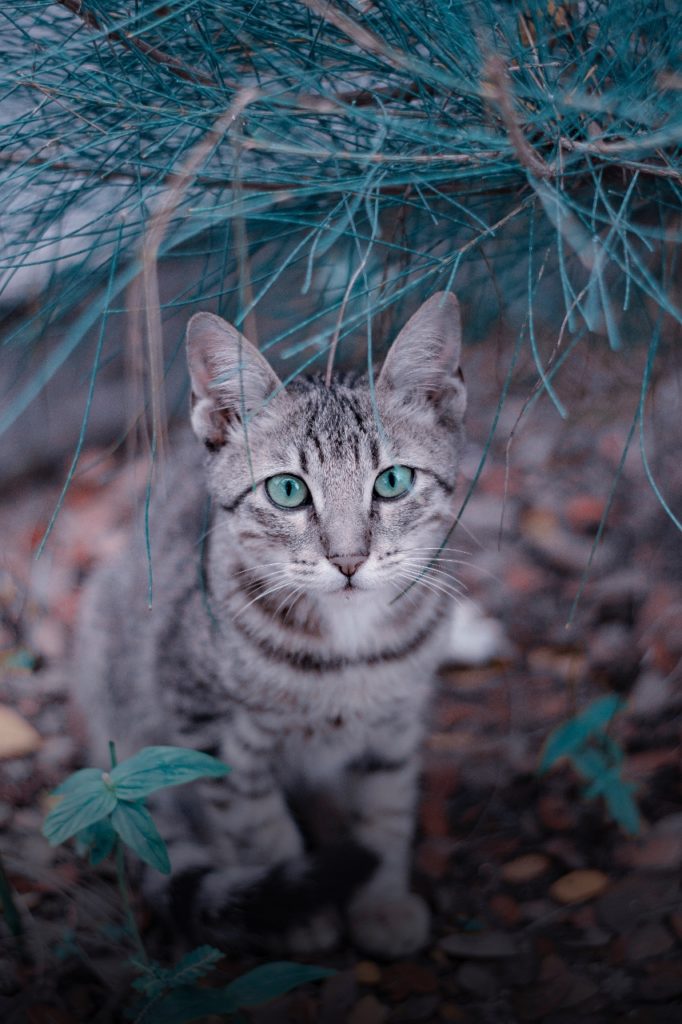 "Whatever you do, please don't return her to the wild again." The emphatic advice I received from a veteran feral cat rescuer gave me reason to hope.
After being told by the local animal shelter that the feral cat I'd managed to catch would be euthanized if I left her there, my only remaining options seemed to be to return the cat to the wild (now spayed) or attempt to keep her in my home. Given the cat's level of terror at the mere sight of humans, the latter option didn't seem realistic, until I spoke to a woman experienced in feral feline rehabilitation.
This wonderful lady instructed me in the best method for rehabilitating my feral cat, assuring me that her preferred method had been tried and proved successful in hundreds of feral feline rehab cases.
I grabbed at the hope this news offered. My goal was not to make this feral creature into an affectionate lap cat that would act like any other domestically raised feline. I assumed that wasn't likely. My goal in keeping her instead of returning her to the wild was simply this: I wanted her to be free from a life of fear.
I'd seen her, out there under our deck. Those huge yellow eyes nearly popped out of her head as she froze in terror at the sight of us. I couldn't forget that image even if I wanted to. She was worn down by years of living in fear, depending on that fear for her survival. She froze at the slightest noise or movement. She had to constantly keep watch, for her own sake and for her kittens.
She was clearly competent at the task of staying alive in the wild, but the life she led was marked and defined by fear.
As a calico domestic shorthair, this mother cat was descended from domesticated felines. She wasn't meant for a life in the wild, a life of fear. She was meant to live under the safety and protection of love. I wanted her to have a chance at the life she was meant to live.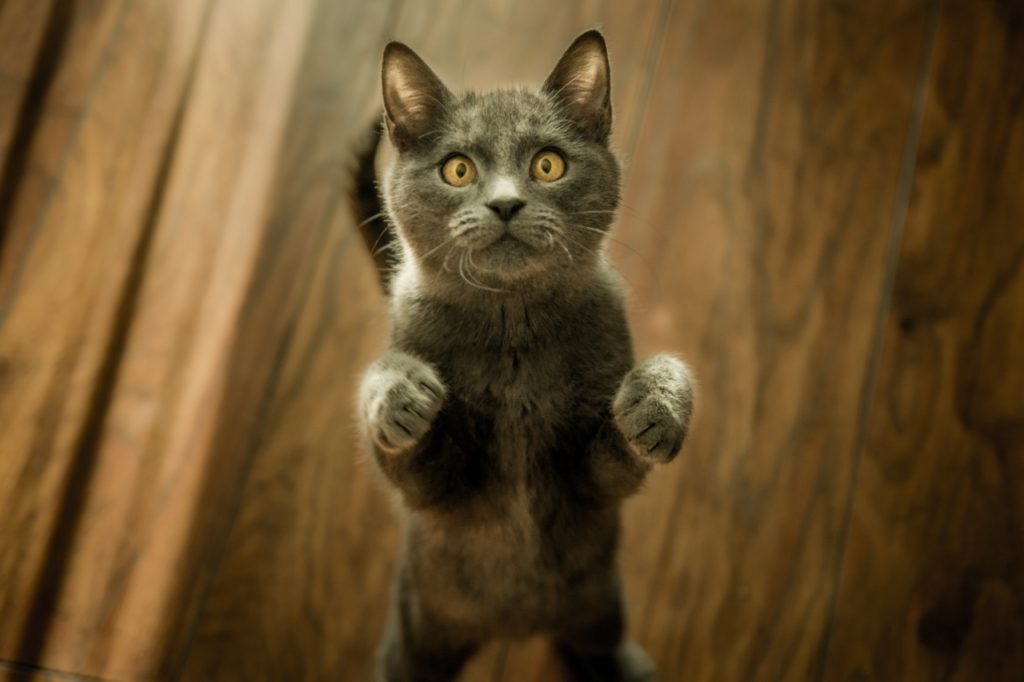 Several weeks later, my once-feral cat was calming down a bit. She would engage in a bit of play with a toy I dangled through the walls of the jumbo-sized dog crate in which she was housed. But she was still wary of people, myself included when I would open the doors of the crate to supply food, etc.
I was careful not to rush the process, no matter how much I wanted to just touch her, to show her how much I'd come to love her. But one day, as we played through the crate wall, I was able to reach a finger through the bars and touch her soft fur, ever so gently.
She didn't startle as I had expected. She seemed to enjoy the touch. She stayed at the side of the cage and I touched her again, this time reaching in a few more fingers to pet her.
Breakthrough. She leaned into the petting, and her life changed. It was as if my touch shattered the wall of fear surrounding her.
From then on, she didn't become frightened when I approached because she looked forward to the petting. She couldn't get enough of my love. She always wanted more petting, more affection. The rest of the rehabilitation process went quickly, thanks to this breakthrough.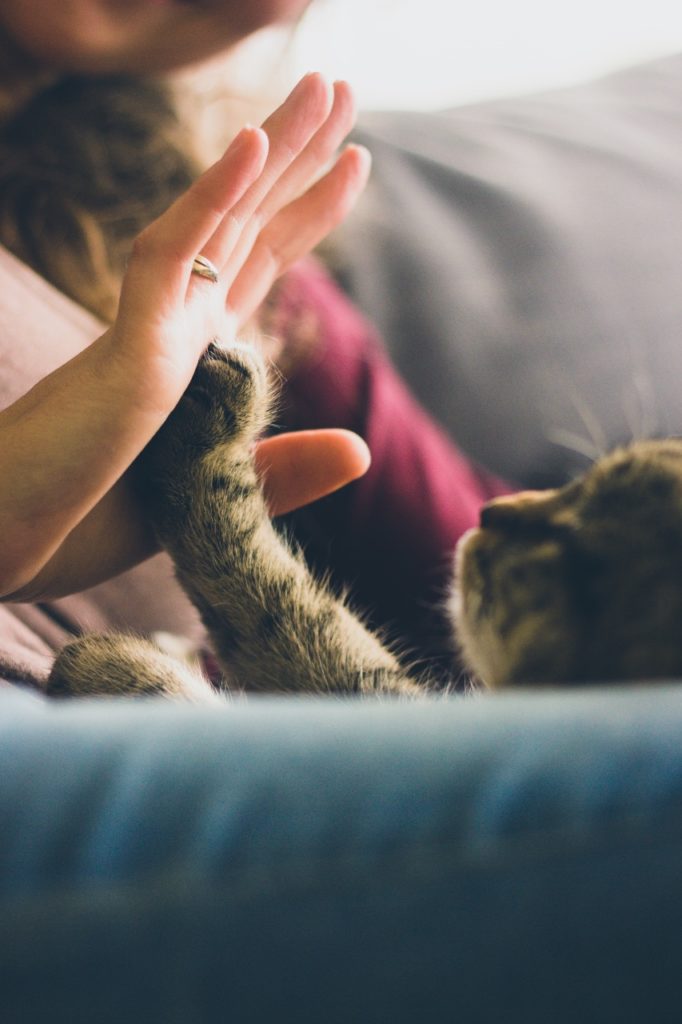 Any time she faced something that made her afraid outside of her crate as she explored the house, I discovered that if I could get close to her, I could enable her to conquer her fear simply by reaching down and stroking her back or head. She would stand taller under the touch and press forward, as if my love had flowed into her and come out as courage.
The times that she didn't let me close, she would revert to her feral ways, relying on her fear to save her and ending up needlessly hiding under a sofa, stressed and afraid.
But as she kept letting me near and received reminders of my love, her fears disappeared, to the point that she is now the friendliest cat I've ever known. She greets every visitor, buddies up to our big dogs, and is the lap cat I didn't think she could become.
As I look back and remember those early days with my rescued cat, I see something surprising. I see in her a reflection of myself.
How many times have I relied on my fear instead of God to keep me safe? How often have I tried to handle my fears without God's help and ended up cowering somewhere in a frightful mess?
I know that, far more frequently than I'd like to remember, I've let my worries and anxieties drive me away from God, desperately searching for help elsewhere, when all along He's waiting for me to draw close so He can show me just how much He loves me.
In the greatest act of love ever, Jesus Christ gave Himself for us, dying a horrific death and suffering the judgment that we deserved for our sins. Part of the reason He did that was so "that we, being delivered from the hand of our enemies, might serve him without fear" (Luke 1:74).
Because of Christ's love and sacrifice for us, we no longer have to fear the judgment of God in eternity (see the guest post I wrote on perfect love casting out fear for more on this). But what I often forget is that God's love gives us power over fear in our earthly lives, too.
We weren't meant to live in fear any more than my feral cat. We weren't created to have to rely on fear in order to survive. We were created to rely on the love of our Creator, Jesus Christ, the One who rescued us from our fearful lives.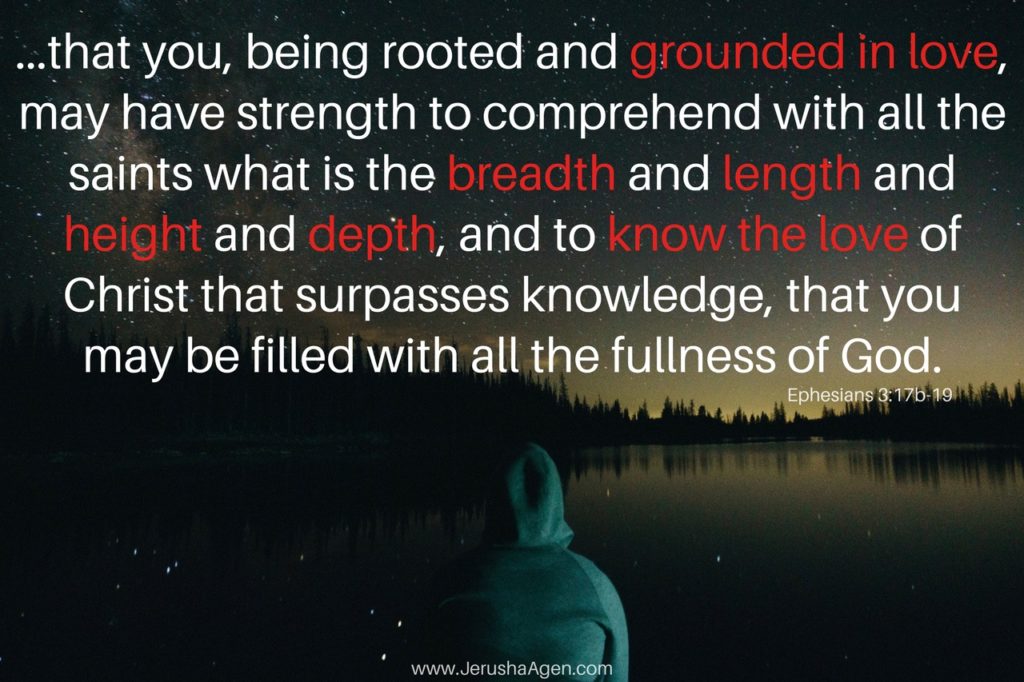 The Apostle Paul communicates how infinite that love is when he prays for the Ephesians that they "may have strength to comprehend with all the saints what is the breadth and length and height and depth, and to know the love of Christ that surpasses knowledge, that you may be filled with all the fullness of God" (Eph. 3:18-19).
Our all-knowing, all-powerful, omniscient God loves His chosen children with a love so big and infinite that we can't comprehend or even imagine the extent of it. When we love someone as much as a person can, we would do anything to protect our loved one from harm, to ensure nothing but good for that individual.
How much more so, then, must God work to ensure the best for us? To keep us safe, to direct us in the way we should go, to give us everything good and wonderful (Matthew 10:29-31)?
If you're like me, then you probably don't begin to understand this love of Christ. Like Paul, we need to pray that we may "have strength to comprehend it," because the greater our understanding of His love, the greater our ability to fight fear. For if we know and fully believe that the Creator of the universe and the one who controls all things has an everlasting, incomprehensibly deep love for us, then we will have nothing left to fear.
The next time you face a fear, when anxiety or worry creeps up on you, or when a phobia leaps out in a surprise attack, draw near to God. Come close to Him through prayer or Scripture, and you'll feel His gentle hand reaching down with the touch of love. A love that will flow through you and come out as courage.
My grandfather used to commend me on the great work I'd done in rehabilitating a feral cat. But I always told him that it wasn't anything I'd done. It was love.
As your fears lose the hold they have on your life and you defeat them one by one, you'll be able to tell others—it wasn't anything I've done. It was love.
Has God's love helped you face a fear? Do you turn away from God or press in to Him when you're afraid? Please join the conversation!
---
Just for some springtime fun, I'm going to give a free print copy of Lisa Carter's Vines of Entanglement to one of you who leaves a comment below! (Winner to be chosen and contacted via email April 3, 2017. Continental U. S. addresses only.)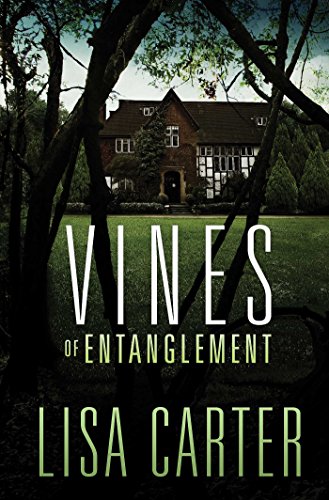 A tangled web of lies characterizes the life Laura Mabry has built for herself and her son after the tragic death of her husband. But Laura's carefully constructed world slides off its axis when she stumbles upon the body of a young college student on the recreational trails of Raleigh's Greenway. What's worse, Detective Jon Locklear is Laura's worst nightmare…and her dream come true.
Jon has spent years trying to forget Laura. Past experience has taught him that he can't trust her, but old habits—like old loves—die hard. When the killer turns his attention on Laura, Jon may be the only one who can save her.
Truth and murder lurk just around the corner for Laura. Can she find the courage to face her deepest fears and unravel the lies of her past before she and her son become the Greenway Killer's next victims?