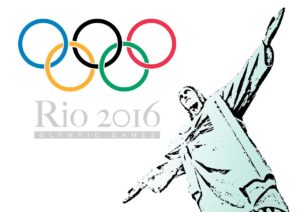 I love watching the Olympics. The 2016 summer Olympics have been no exception, as I've whiled away hours in front of the TV, watching amazing athletes strive for glory. Olympic athletes often seem other-worldly, their perfect physiques and astounding athletic prowess the stuff of fantasy.
Yet, I've begun to realize something as I've watched these Games: Olympians aren't as different from us as they appear. They have to face the same adversary as the rest of us every day—fear.

Fear is all over the Olympic Games, and not just related to the threat of terrorism. Fear is present in many more personal ways, as well. Women's Beach Volleyball teams won't serve to Kerri Walsh Jennings because they're afraid of her unbeatable reputation. But the teams suffer from giving in to their fears since April Ross, Walsh Jennings' teammate, is proving more than capable of scoring on every serve sent her way.
Swimmer Michael Phelps's rival Chad le Clos tried to use fear to undo the legendary champion before their faceoff in the 200 meter butterfly, but Phelps emerged from the attempted intimidation stronger than ever.
Gymnast Aly Raisman and the other Olympic women's gymnasts talked about how frightened they were before their team events, and the clear signs of trepidation on other Olympic athletes' faces are not uncommon to see.
But the Olympians who earn gold, silver, or bronze medals at the Games share a more important similarity—they're the ones who beat the fear.
They are the Simone Manuels , the Katie Ledeckys, and the Joseph Schoolings. They're the people who found a way to keep their doubts, worries, and nerves from crippling their ability to achieve their purpose in being at the Olympics.
Though we may not be aiming for gold or any sort of medal, we're just like the Olympians. Every morning, we wake up to a day laden with anxiety, concerns, or things we recognize as downright frightening. If those fears overcome our resolve and confidence, we won't fulfill our purpose; we won't win in this life.
So how can we beat those fears to become champions in our daily lives? Some athletes conquer fear by believing in themselves, trusting in their training and hard work, having faith in sheer luck, or just trying to avoid thinking about their fears at all. But while such athletes might find temporary success on an Olympic stage with such tactics, none of those approaches will work for every fear we or even the athletes themselves will later face in life.
No one's personal strength or skill is enough to beat all fears, many far more terrifying than athletic competition, no matter how much one believes in oneself. Training and hard work doesn't always bring success, and luck is certainly not a dependable ally. Avoidance might work for a brief moment, but ignoring fear will ultimately result in an ambush attack when defenses are down.
There are some Olympians that stand out from this crowd of short-term strategists. In their interviews and media coverage, it's easy to see they have a battle strategy that will last beyond the Games, that will keep them protected and fully armed to beat fear the rest of their days.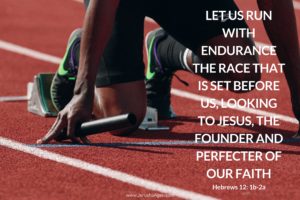 What is their winning strategy to conquer fear? Diver David Boudia said it best in a brief interview after he and diving partner Steele Johnson clinched a Silver Medal. "When my mind is on this, and thinking I'm defined by this," Boudia said, referring to Olympic diving competition, "my mind goes crazy. But we do have to know that our identity's in Christ." When his partner Johnson, a first-time Olympian was asked how he could maintain his composure so well, he echoed Boudia's words, saying, "The fact that I was going into this event knowing that my identity is rooted in Christ and not what the result of this competition is just gave me peace, it gave me ease, and it let me enjoy the contest."
That's the key to winning the battle against fear for us, too. Whatever challenges, stress, anxieties are facing you today, remember that none of what you're facing defines you or your purpose. If you are a follower of Christ, then your identity and significance is in Him, not anything in this world. Even if the worst that you fear happens, He will preserve and keep you. He will never leave you or forsake you (Hebrews 13:5). And if you cling to Him through it all, you will emerge the victor.
The glory we're after is not the temporal glory of winning an Olympic medal, but the unimaginably greater glory of battling through any fear that attempts to hold us back as we fulfill God's purpose for our lives. This is glory that will last for eternity.
What have you learned from watching the Olympics? What are your favorite events? What fears are you fighting in your life? Please join the discussion in the comments below!