Jerusha: I'm delighted to introduce you to Marva Smith, a blogger of great encouragement at SunSparkleShine. I fell in love with Marva's honest and inspiring writing the first time I stumbled upon her blog. Please join me in welcoming her to the Fear Warrior community!
By Marva Smith
Having lost my brother unexpectedly six months ago, I've been through a myriad of emotions.
Add to that the loss of my father the previous year and you could say, I'm no stranger to this roller coaster ride.
I've run the gamut from shock to denial, anger and guilt, to depression, just to name a few. Sometimes all in one day.
I can't say that I'm at acceptance just yet, but I have a feeling I'm getting there. Maybe. I'm not quite sure.
That's the thing with loss, you never quite know where you stand.
Loss is quite a sneaky fellow.
One day you feel like you've gotten over him. Next day, bam! He's right there staring you in the face with no plans of moving out.
The hardest time for me (so far) was exactly three months after losing my brother. It was as if I'd finally given myself permission to grieve. And oh boy, the torrents just opened up.
For most of my life I've feared losing a loved one. Truthfully, I'd never been one to deal with death very well. I'd be an emotional wreck at funerals and I didn't even have to know the person very well.
Still somehow, I was surprised by the rush of pain that came seemingly out of the blue. Partly because I thought I was coming to grips with losing him. But with loss, there's no neat timeline or road to recovery.
And every loss is different.
But if it would help, I'm sharing some things that have been helping me cope with loss. My hope is that they might help you or someone else who's grieving.
Loss knows no boundaries
Loss does not discriminate. It doesn't matter your age, gender or culture.
Because of the nature of life we are all prone to experience loss. It could be the loss of a loved one, loss of a job, loss of a dream, you name it.
Yet, while we have no control over the loss itself, we have some say in how we respond to it.
As I walk through this valley of grief I have to decide, will I choose bitterness or joy? Peace or turmoil?
Will I give in to constant fear or will I be an overcomer?
Joy comes in the morning
But not always literally.
I love this encouraging verse in the Psalms so much.
Weeping may stay for the night, but rejoicing comes in the morning. – Psalm 30:5
But expecting joy to show up overnight (and stay) is not realistic for me. I've found that joy and pain have a way of coexisting. They come and go as they please without asking. And the truth is, sometimes morning takes a looonnng time to come. But come it does.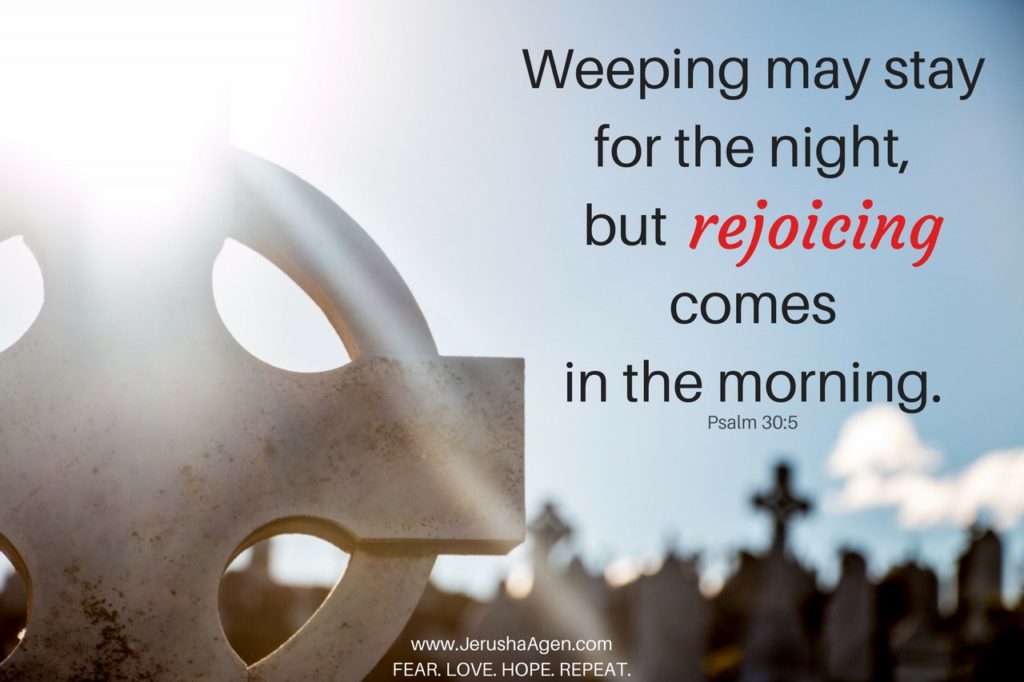 Knowing how fleeting joy can be, I'm choosing to enjoy it when it does show up. And I'm finding more ways to be intentional about creating joy moments as well.
Healing has its own timetable
While the response to loss is different for everyone, so is the healing process. There's no predictable timetable.
The simplest things can trigger a sad moment. It could be a smell, a sound, an anniversary, just about anything. Even though the pain might lessen, it can still stay with you for a long time.
Knowing this has given me permission to appreciate the emotion of the moment. I used to be so tempted to rush past the sad times, but I believe it's those times that make joy so much sweeter.
You Never Walk Alone
Very often friends are there in the early stages of grief to offer words of comfort and hope. But as things seem to get back to 'normal', the comforters often go back to their regular routines, and understandably so.
I remember some years ago losing a college mate and the sting that I felt. The hardest thing for me was understanding how others could move on with life as usual. It hurt to see things getting back to normal without my friend.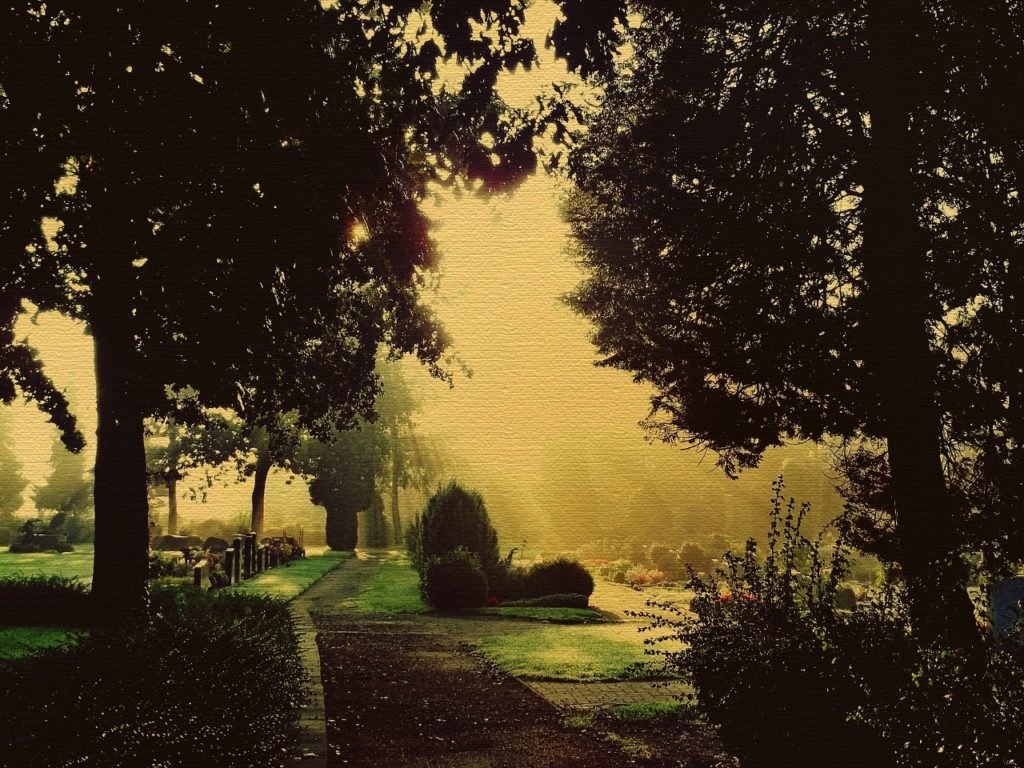 As lonely as it might seem to go through your loss, you're never actually alone. There is one who walks beside you to offer peace.
Peace I leave with you; my peace I give you. I do not give to you as the world gives. Do not let your hearts be troubled and do not be afraid. – John 14:27
If you know someone who has experienced loss recently, would you share this post with them? My prayer is that they will experience God's peace calming their fears as they anticipate a loss or as they navigate the waves of grief. God provides a sure anchor that they'd do well to hold on to.
P.S. If you're visiting from my site SunSparkleShine, you already know some of my story. If not, feel free to visit for a little bit of the backstory. This week I'm celebrating my brother's life as we prepare for what would have been his 31st birthday. I hope you can find reasons to celebrate in spite of your loss too!
Are you grieving a loss right now? Have you learned ways to fearlessly face loss or are you struggling? Please join the conversation!
---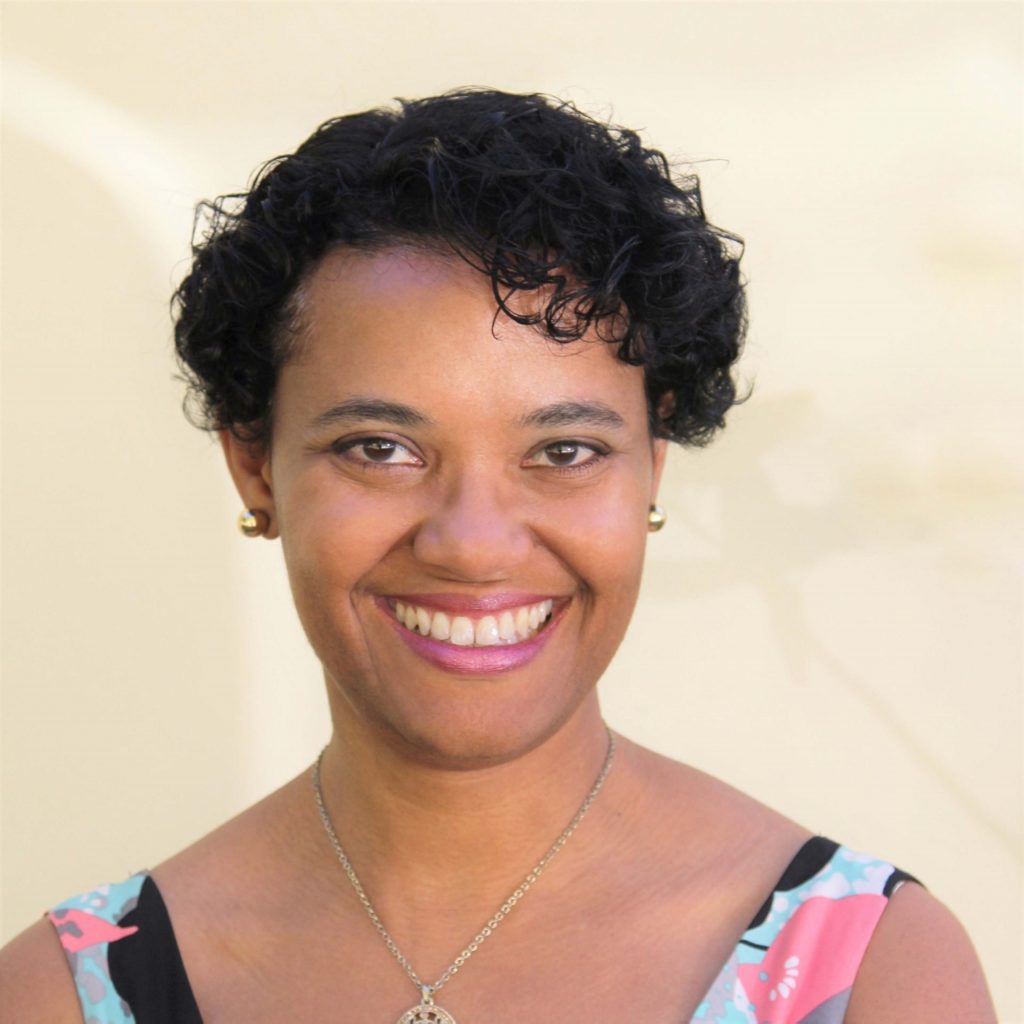 Marva is an island-living, sun-loving Christian wife, mother and wearer of many hats.
Inspired by John 10:10, she encourages women to slow down and enjoy life to the full, brilliantly.
You can find all the latest sparkle on her blog SunSparkleShine as well as Facebook, Pinterest, Twitter, and Instagram.
Get a free copy of her e-book, You Were Made to Sparkle, when you sign up for her Sparklelights newsletter here.