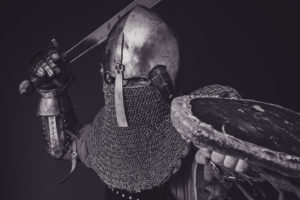 When people ask me why I write romantic suspense, I often tell them that I'm a very fearful person, and I figured, why not channel that into something useful and write suspense? This explanation usually gets a laugh in response, and I chuckle, too. But it's also the truth.
With an overactive imagination, I can conjure potential danger anywhere at any time. And if there's no real danger, believe me, I can still find something to make me anxious. This is a great asset to creating stories filled with nail-biting suspense, but not so much in real life. I mean, who wants to walk around with stubby nails or spend life perched on the edge of every seat?
Though I know I'm more fearful than many people, I've noticed through the years that I'm definitely not the only one who faces fear. In fact, the reality is this: Everyone deals with fear at some point in their lives and most of us deal with it daily.
Fear can take so many forms. We call it worry, apprehension, concern, nerves. We call it doubt, insomnia, ulcers, stress.
But we weren't made to live like this, held back and controlled by fear. In His Word, the Lord tells us, "fear not, for I am with you; be not dismayed, for I am your God" (Isaiah 41:10a). Over and over again throughout the Bible, we're told not to fear, not to worry or be anxious. This isn't just good advice, it's a command from God. A command that, if obeyed, will lead us to a much better, healthier, and joyful life.
The only kind of fear that God says is good is the fear of Himself. And that's totally different than the fear that plagues our everyday lives. (But that discussion is for another post!)
I, for one, am tired of being controlled by fear. I don't want to have my life choices limited by fear or my days marked by anxiety and stress. I'm ready to put on the armor of God and battle my fears. Make no mistake—it is a battle in the war with the evil one. He's determined to take us captive with fear, but we have all we need to defeat Him.
I need help remembering that. I need reminders of the weapons God's given me to fight fear. I need practical ideas and applications for how to battle fear in all the many, sneaky forms it takes. I'm guessing you need that, too.
So will you join me in this fight? Together, we can build a community of Fear Warriors that strengthen and empower each other to stand firm in this battle against fear.
Here at the Fear Warrior blog, I and other authors wiser than I will share our thoughts on fighting fear God's way and offer practical tips and ideas that all of us can apply to our daily lives. We're all in this battle together, and the only way we're going to win is if we support each other in a community of encouragement.
Together, through the power of faith in God, we will be victorious!
What fear, worry, or concern is holding you back? Keeping you up at night? Please share in the comments below.